Since 2001, BTL Pallet has been removing large quantities of wood waste from businesses in Southeastern Wisconsin. (loose wood, wood boxes, crates and wood packaging material) The majority of these loads have been in semi load quantities. If you have less than a semi load, please call us at (414) 761-0220 and we can discuss what BTL may be able to do for you.
Wood Waste Removal Program
By using BTL, you can fit the wood waste of 4 dumpsters into one neatly packed 48' semi trailer. We do not use dumpsters. Plus, by using BTL, your wood waste will be recycled into pallets or colored enviro-mulch and not placed into a landfill as all disposal companies do. Your decision to recycle will go a long way to help solve the nation's growing landfill problems. You and your company will become part of the solution and no longer part of the problem. (This service is only available for customers whose volume requires regular pickups.)


What we can take:
Broken Pallets , Scrap Wood, Wood Boxes (see pictures below)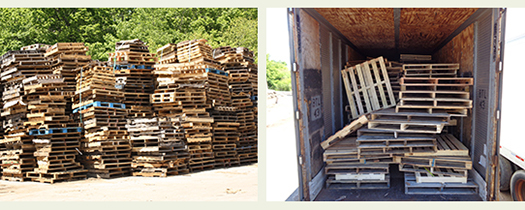 What we can't take:
The material must be free of foam, plastics, and metal plates. If your wood contains these, they must be removed prior to our arrival. Our grinder will not be able to process this material as it will damage our equipment. Nails, screws, bolts or any metal that is bendable by hand is fine and will be recycled by BTL.

You must also have a loading dock capable of handling a semi trailer.